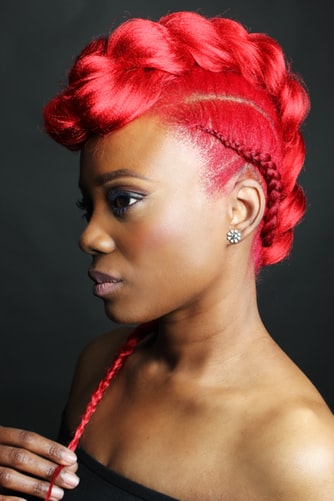 6 Hair treatments that can sustain long lasting color
Tired of the hair color fading, a week after you just got it done? We know how much you love the new hair color, unfortunately it is now fading. Don't fret! All is not lost. We present to you six radical hair care and treatment solutions that not only give you the best color, but also prevent any kind of color loss or hair damage in the long run.
Get the right hair coloring treatment
The most important thing is to get an appropriate coloring treatment so that your hair looks awesome and the color stays for a longer period. The professionals at The Changing Room salon, are highly educated. Moreover, they have multiple professional color lines to ensure 100% satisfaction when color is done at The Changing Room. Therefore you should always get your hair colored by a professional. It not only ensures the desired color but also amazingly longer lasting results.  The after color shampooing techniques, by our professionals also help your hair look healthier and give it an enriched shade.
A regular oil treatment
In order to retain color, your hair should have enough moisture and shine. This will help the hair look healthier and enhance the color even when it's fading out. Moisture is the key factor in the hair when talking about color, if the hair is unhealthy/ dry the color will look much duller, especially when it starts fading. It is hard to determine which oil treatment is best for your hair and you could be using too much or too little. For that reason it would be in your hair's best interest to consult with your stylist on which in salon treatment & and take home care suits your lifestyle.
Having a good scalp treatment
Sometimes we experience build up on our hair from overuse of product, which could result in the color looking dull or matte. To avoid this issue scalp treatments are available at the Changing Room to maintain the health and shine of your hair.
Get a protein treatment
Unfortunately some of us have "weak" hair which could dull your color or worse cause breakage. Luckily at the Changing Room we offer a few strengthening protein treatments that heals your hair internally. One of our top treatments is called Olaplex which is a three part system that repairs the hair from the inside out.
Treatment for protection against UV filters
Everyone knows how damaging the sun can be to our skin, however we often forget it is equally important to project our hair. You must find a hair product that says it has UV protection. UV filters pose a greater threat to your hair than your skin, so you definitely need to save your hair from the damage. Get professional help and appropriate treatment to shield your hair from UV rays. A recommendation would be Aveda Sun Veil spray.
Touch Up for retaining the beauty of the color
It is recommended that you get a touch up every 4-6 weeks, in order to retain the color and achieve a perfect match to your shade.
It is always good experimenting however at the same time it is important that you take good care of your hair. Look out for a good hair salon that can offer you good services so you can flaunt your new look.