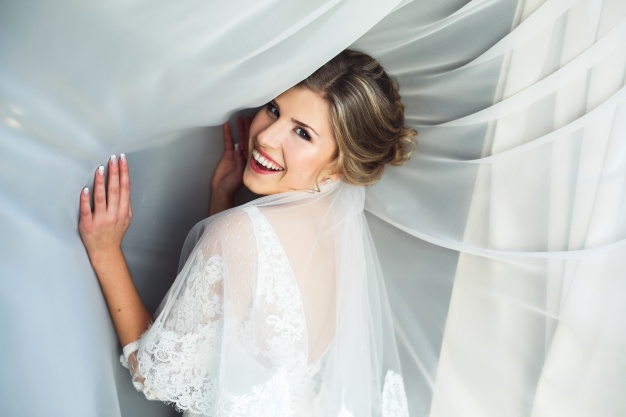 3 of the Most Fashionable Wedding Hairstyles for Short Hair
Wedding bells ringing out with the sound of celebrations, excitement, and fun. Every girl dreams of wearing the perfect gown, matching it with the best accessories and makeup. And not to forget, you need a brilliant hair-do to make your big day absolutely perfect.
But are you worried about your short hair? Scared that your short hair might ruin your special day? Well girls, we have got a surprise for you. There is a lot that you can do with your short hair. The simple trick is to go beyond the usual hairdos, working with your current length to get something incredible. Visit Radiant Bride and get the bridal dresses now.
Look at these 3 beautiful hair-dos and get ready to be the perfect bride.
1. Pinned-up Side
There are times when the ordinary can be made extraordinary with a professional touch of elegance. Your short hair can look absolutely glamorous with smooth curls on one side and a beautiful clip on the other. Seek an expert's advice to get the curls that suit you best. Make sure that you get the hair pinned professionally so that it does not come out during the big event.
Just follow the experts and get a shiny, smooth, and elegant look for your perfect day.
2. Gorgeous Up-do
You may not have enough length to tie a pony but believe me, your hair experts can get you a very pretty up-do without the pain of hair extensions. Glam up your up-do, accessorizing it with beautiful bands, decorative clips, and the right hair-setting products. Show off an off-shoulder gown with this perfect up-do and get ready to pose with elegance and style.
3. Soothing Half-ups
Want to let your not-so-long hair loose on the day of your wedding? Guess what− you can!  You can get a half-up, decorate it with flowers and other accessories, and enjoy head-turning soft curls. To add to the fun, you can even pick a gorgeous hair color and match your accessories to it. Sprinkle around happiness through your pleasant look on this memorable day.
You don't need to be limited by your short hair. You just need an expert stylist to make your hair look glamorous and unique. Weddings are one of life's biggest and most celebrated events. Make sure you win over many hearts with your marvelous looks.
Here at The Changing Room, we have always wished to make your perfect days even better and more beautiful. Our team of experts work towards our customers' needs and satisfaction. For the best tips on hair styling, contact us today.