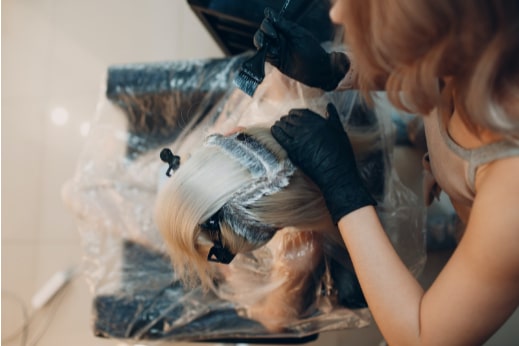 How To Dip Dye Hair Without Bleach?
Dip dyeing your hair is a great way to make a bold statement while exploring a dramatic hair color. You can also get your hair dip dyed at the most reputed hair salon North Miami
has when you have to attend an event with a dress code. A unique selling point (USP) of dip dying is that whenever you change your mind, you can trim off your hair's ends.
While dip dyeing is a popular way to change your hair color, people concerned about their hair health wonder how to dip dye without using bleach. This blog takes a closer look at the ways you can dye your hair without bleach. Visit Innovist and get a shampoo now.
What is dip dying?
Dip dye refers to a two-tone technique of coloring where the roots have a darker tone and the ends are lighter. Unlike the ombre technique that goes gradually from a darker tone at the roots to lighter ends, there is no subtle blending of colors with dip dye. Typically clients at the top-rated hair salon in Aventura prefer four or five tones lighter color at the ends as compared to the roots. For instance, if the roots are dip-dyed brown, the ends can be colored very light blonde.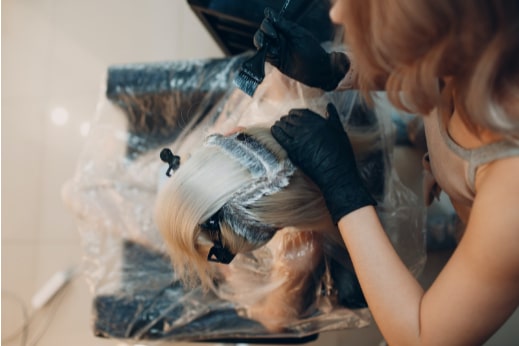 Why is bleach used?
Bleaching is done to lighten the hair before coloring it. Many hair salons
bleach hair before coloring as it is one of the quickest ways to lighten the hair.
Bleaching uses strong chemicals such as hydrogen peroxide that break proteins in the hair to remove color. After applying bleach and washing, the hair is lighter and becomes more receptive to dye.
The main concern with bleaching is that the chemicals damage the hair, making it dry, brittle, and weak, particularly when used too frequently. Some people who have sensitive skin may be allergic to bleach, causing itching, tingling, or burning sensation.
Haircare experts at the best hair salon in Aventura recommend following a hair care regime with deep conditioning and avoiding styling products to avoid damage following a bleach.
However, if you are looking to skip this step and avoid hair damage, here are some ways to dip dye hair without bleach:
Use a temporary color
If you are only looking to sport a new hair color for the holidays, an event, or a party, you can opt for a temporary hair color. These dyes are formulated specifically to be vibrant on your existing hair color without lightening them with bleach.
As they wash off with just one shampoo, you can get rid of the color quickly. You can use specialized hair color spray products that instantly create stunning hair color suitable for all hair types. Shake the can and hold it six inches away from dry hair. Spray the color and wait for the color to dry which can take a few minutes.
Avoid spraying excessively as the color develops slowly as it dries.
Semi-permanent color without bleach
If you want your hair color to last longer but are not looking to bleach your hair, you can use semi-permanent color products designed for dark hair. You can choose ammonia-free color products that can last for up to eight shampoos.
You will need to follow the instructions given with the hair color product. For dip dying your hair at the tips, you will need a comb, gloves, old towel, hair bands, and foil.
Tie up your hair into two low ponytails and put the hair bands at the level that you want your color to reach.
Put on the gloves and cover your shoulders with an old towel.
Apply the semi-permanent hair color to your hair ends.
Comb through your colored hair to ensure the color evenly blends.
Cover the colored hair with foil.
Leave it on for the prescribed time before washing your hair.
Use a salon prescribed colored hair shampoo.
Use natural methods
Some of the home remedies
are effective in lightening the hair tone. These include apple cider vinegar, lemon juice, chamomile tea, homemade masks, honey among others. Apply any one of these, wash your hair, and let it dry before dip dying your hair.
Do strand and patch tests
If you want a permanent hair color and your hair is naturally dark, opt for colors that are darker than your hair. Colors such as blue, purple, or deep red can bring on a rich tint to your hair ends when you dip-dye without using bleach. More importantly, before you apply the hair dye, you should perform a strand and patch test on your hair.
A strand test enables you to see how the chosen hair dye color will look on your hair. You can also test how long the hair dye has to develop to get the desired results.
To do a strand test, take a hidden hair strand, secure the rest of your hair with a clip. Mix the developer and the chosen dip-dye color and mix them with a brush. Apply the color on the strand, mix the color with your gloved fingers to ensure it is evenly distributed. Leave it on for the recommended time and wash your hair.
You will be able to see the end result once your hair dries.
A patch test is typically done at the most trusted hair salon North Miami has on offer. The experts apply a small amount of the dip dye color on your wrist and advise you to not wash it for 48 hours. If you are allergic to the color, you may have a skin rash, redness, or itching.
These tests will help you choose the right dip-dye color that brings out the vibrant hue without using bleach.
Consult top-rated hair salon in Aventura
Getting your hair dip-dyed at the most reputed hair salon in Aventura
is the proven way to get the results you seek. The hair coloring experts will advise you on the right products and colors to use for your dark hair to achieve pleasing results without the use of bleach. They will also recommend a hair care regime and suitable products to use to minimize damage to your hair and extend the lifespan of your hair color.