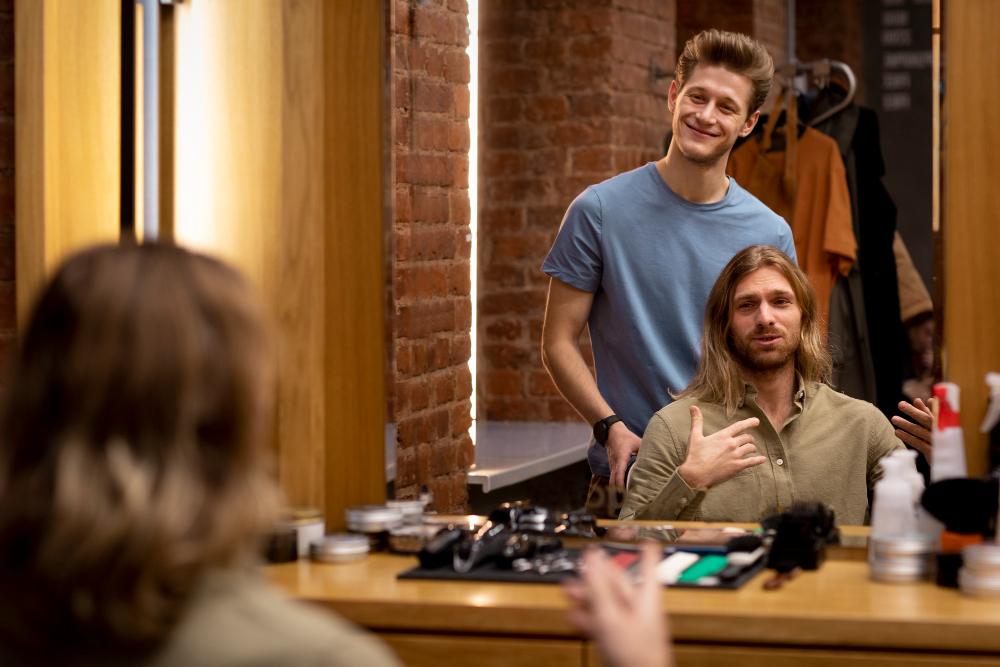 Are Hair Salons Increasing Their Business by Attracting Male Clients?
Salons have traditionally been more popular with females than they have been with males. However, times are changing, and these days, fashionable grooming has found favor with a considerable male population. Instead of opting for run-of-the-mill barber shops, these men prefer to get their grooming done from high end barber shops, and they don't mind paying a higher price.
This presents an opportunity for hair salons to capitalize on, but how exactly can a hair salon increase its clientele by attracting male customers? In this post, you will get to know all the top strategies being leveraged by hair salons to reach out to prospective male clients. So, if you own a hair salon with aspirations to serve not only women but men as well, read on. And if you are a man who wants to be groomed to perfection, pay a visit to The Changing Room Hair and Beauty Salon.
It all starts with the advertising
Think about this – a salon claims to offer the best mens haircut Miami but doesn't have a single male face across all its ads. Quite simply, this salon won't make much of a dent in terms of attracting male clients, will it?
Effective advertising can be a great way of communicating with your target audience to let people know what you have to offer. So, if your salon does offer services for men, include a male face across all your ads – from print to television to online.
Ads featuring men won't only appeal to men. They can also let your female clientele know that your salon is a place to consider for men haircut Miami. As a result, your female clients can tell their male friends and family members about your salon. Sure, we are living in a digital age, but old-school word-of-mouth marketing can still work wonders.
Make your waiting room men-friendly
When it comes to grooming, men tend to be much more impatient than women. However, if it's a full house, anyone who comes in, irrespective of whether it's a man or a woman, has to wait, right?
This is where having a man-friendly waiting room can really make a difference. For starters, stock up on men's magazines to keep male clientele engaged before your hairdressers are free to interact with them.
Also, Wi-Fi is a must nowadays as it allows both men and women customers to kill some time on their smartphones as they wait. At The Changing Room Hair and Beauty Salon, there are a ton of things to keep clients occupied. Make sure you visit it the next time you need a haircut in Miami. Even if you have to wait, one thing's for sure – the wait will be worth it!
Offer products and services exclusively for men
Men like experiences involving exclusivity, and hair salons that are popular among men offer services and products tailored to the needs of the modern man. For instance, fade haircuts have managed to make quite an impression on men around the world. So, it would make sense to have fade haircut on your catalog of services that only men clientele can choose.
Also, ensure that your salon offers various shaving services, such as full shave and neck shave. After all, for men, grooming isn't only about cutting the hair on the top of the head. Many men are uncomfortable with shaving their beards on their own. Your salon can make the most of this business opportunity by including every conventional and trending beard style in its list of services.
Men are also increasingly choosing to use grooming products to keep themselves looking and feeling confident. So, stack up on those products right now to earn some extra profits. Last but not least, provide incentives to your male clientele from time to time. For example, you could offer attractive discounts and service packages during the festive period.
Go with masculine elements in your salon's decoration
Salons that offer their services exclusively to female clients tend to have feminine appearances. Apart from having female faces across their signage, they also incorporate feminine colors such as coral, peach, pink, and/or rose.
If you want your salon to be frequented by both men and women, you would have to make space for masculine decorative elements as well. Blue, brown, gray, and black – are a few examples of masculine colors. Feel free to mix and match these colors up to ooze masculinity.
You should also pay attention to how the approach to your salon's front door looks and feels. Instead of choosing masculine and feminine colors, go with neutral colors such as white, cream, taupe, and/or beige.
Make separate areas for male and female clientele
This might prove to be challenging, especially if your salon has space restrictions. However, if you do have the space to work with, divide your salon into two parts – one for women customers and another for men.
Salons that offer services for women typically do pedicures and manicures. These services involve the use of products for nail care, which are known for their strong odors. Sure, some men won't mind these smells, but many will. The last thing you would want is to see your male clientele leave because they can't tolerate these smells.
With separate areas, the males will not be put off by odors and the smell emanating from nail care products. This would also put you in the good books of your female customers, who would not have to compromise their privacy.
Conclusion
So, there you have it – 5 things that hair salons are proactively doing to entertain male customers. Quite simply, if you get these things right, the men will most definitely turn up at your salon.
If you are looking for a place for the best haircut Miami, look no further than The Changing Room Hair and Beauty Salon. Located in Aventura, The Changing Room Hair and Beauty Salon has successfully met the grooming requirements of both male and female customers for over three decades.