Karla R.
Director Stylist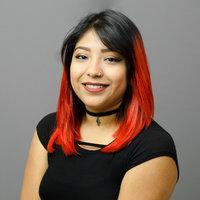 Call For an Appointment
PH: 305.944.8821
Hello, my name is Karla Ruiz. I was born & raised in Hollywood, Florida. I always loved doing hair from a young age. I would experiment on my mom's hair, my sisters, and my own and loved that I always received compliments for the work that I did even before knowing fully the proper techniques and being licensed. It's a passion I've always had. I love making people feel beautiful and transforming hair. I like being able to teach my clients the proper products for their needs and how to manage their own hair.
I have been doing hair for nearly 6 years now. I specialize in Ombres, Balayage, and Vivid Colors. I also do haircuts, updos, and braids. I do continue education online and in person. Most recently I attended matrix destination 2020 which was A 3-day education event with multiple educators. I am certified in platinum hair extensions, 4ever smooth keratin treatments and surface awaken products.