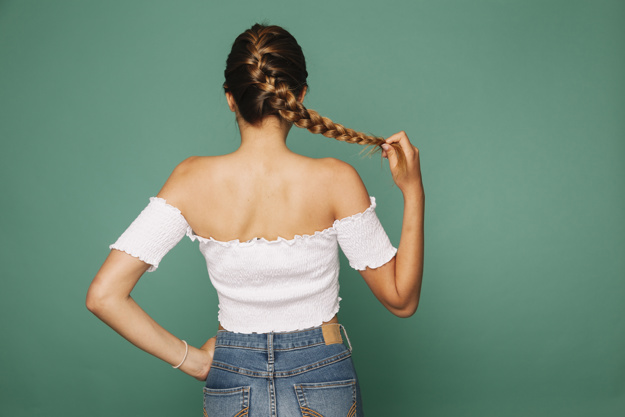 3 Secrets To Get The Braid Styles You Had Always Wanted
Girls need no special occasion to feel special about themselves. Each day can be adorned with impressive hairstyles and fashion. It can be at a party or a casual day at work, each girl wants to bring forward her best look for the day. It surely makes them feel good and excited for the day. Visit The Personalised Gift Shop and get customized gifts for your loved ones.
Knowing your love for looking beautiful each day, we are here with this blog to share some fabulous ideas of hair braiding.
Style up the ordinary
The same old curls in your hair can be made all the more peppy and stylish using this simple hairstyle. This is one of the most convenient and easy ways to style your hair for your casual days at work or school.
Start by curling your hair using a hair curler. Give a soft curl to the hair by wrapping it  around the curler.  Be sure to leave about an inch of your hair outside the curler while wrapping your hair. This can give you hair an amazing messy look.
When you're done curling your hair, take a section of your parted hair and make a three strand braid.
Leave three  inches of your bottom hair length unbraided. Tie your finished braid with a hair elastic.
Give a final touch  to your hair by pulling the braids together to create a beautiful voluminous  look to your hair.  
Make it even more stylish by adding unique accessories like a forehead band or head scarf etc.
And that's it.. You are ready to rock the entire day with this brilliant and classy look.
Braid within a braid
This hairstyle is for those days when you wish to get an absolutely unique and ravishing look. An unbelievably simple hairstyle yet, it gives such a nice finish and glamorous look to your hair that you just can't stop those compliments coming in.
To start , simply pull your hair to one side. Take a hair section from underneath and make a simple braid with it.
Now it's time to take the remaining hair and make a fishtail braid out of it.
Ready with a simple braid and a fish tail? Awesome!
Take both of them and place your simple braid in the centre of the fish tail braid. Club them together using bobby pins.
Style this look with  your favorite dress and get ready to bang on each day with your fabulousness.
Pony with a braid
Are you looking for a hairstyle that can last all day long and promise a convenient yet stylish look? We have something very convenient and beautiful for you.
Curl your hair using a hair curler as narrated in the first hair style.
Grab the hair above your ears and start making a french braid through it. Continue the french braid for about 4 inches and then finish the remaining strands by making a simple braid.
Leave the lower length of the hair (about 3 inches) unbraided.
Pull out the braids to give it a good and thick look..
Take the rest of the hair and hold it in the shape of a pony tail. Choose the position of the pony tail that is the most convenient for you.
Add the braided hair into the ponytail and get ready to show off your look.
Add the accessories you want to make your hair look more attractive.
For the special occasions, trust Changing Rooms to style you in elegance and style. The teams of professionals at our salon strive to get the best of fashion and trend for their customers. Log on to our website or contact us to get more information about our services.